"
Inside
My
Mind
Vo
l
.
3

"
is the latest installment from my "Inside My Mind" Series. Vol 3 is free like the other 2. All digital and 18 x 24 prints.
This Gallery is different from my previous galleries. It has more all illustrated work. No photo manipulation and I played around with different styles and techniques. Also the subject matter is a bit more philosophical.
I this one I wanted to talk about spirituality, mortality, race, capitalism, greed at alittle more then my previous galleries.
BUY
HERE
!
!
!

https://www.redbubble.com/people/johnspainart
_  _  _  _  _  _  _  _  _  _  _  _  _  _  _  _  _  _  _  _  _  _  _  _  _  _  _  _  _  _  _  _  _  _  _  _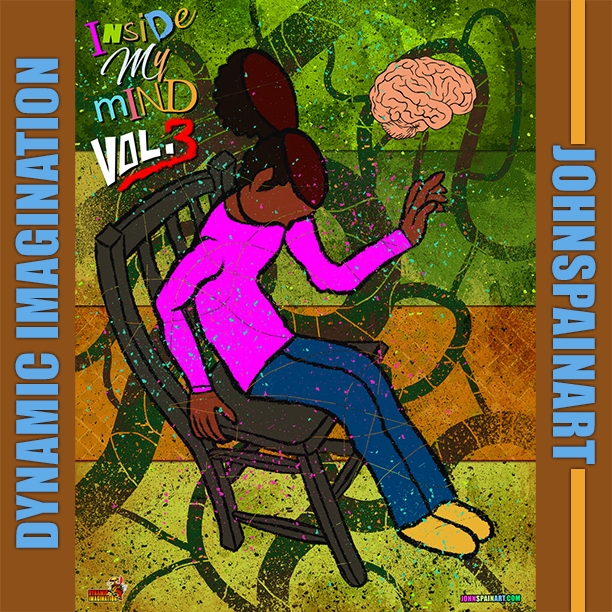 1
.
Inside My Mind

Vol.3

Cover
– The cover shows me sitting in a chair in a empty room with my head open and my mind floating away. I got the idea when I was listening to "It's Madness" by Marvin Gaye. During the time of creation I could feel my mind slipping away from me while in solitude while creating this project. That combined with the lyrics from the song inspired me to create this piece.
This piece was also originally created for "Harsh Thought's, Dark Truth's" but it didn't make the cut. I thought it fit perfectly for the cover of this gallery so I used it.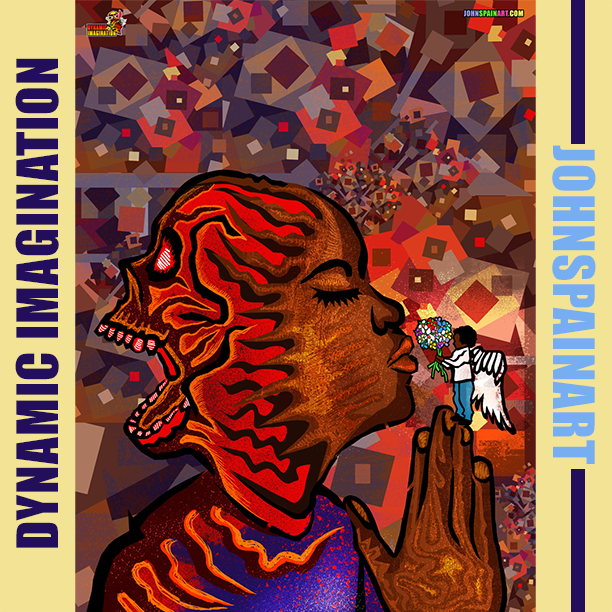 2
.
Angel In My Life
– This piece shows a young black child with his eyes closed praying with an angel standing on his praying hands offering him a bouquet of flowers. On the other side of his head is a screaming skull.
There's an internal conflict going on inside of him. The skull side represent his pain (The Darkness) Hes praying to take the pain away. The angel is his guardian coming to alleviate the hurt that he feels inside.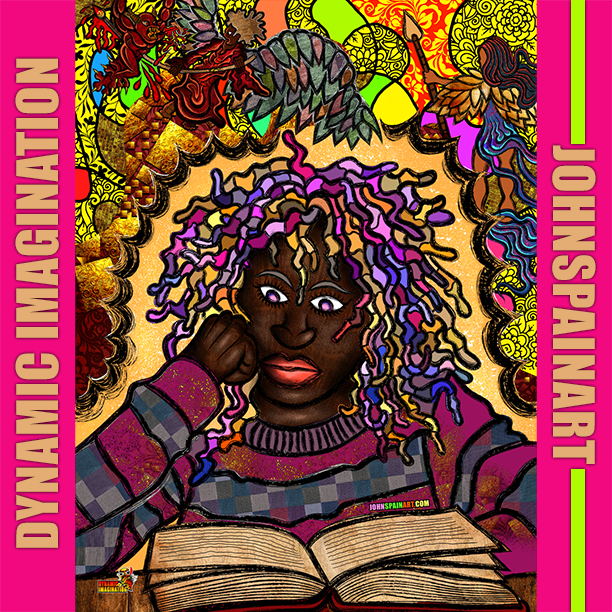 3
.
Battle Armor
– Battle Armor is a piece that shows a young lady reading a book. The book is empowering her and angels are protecting her from the demons that's attacking.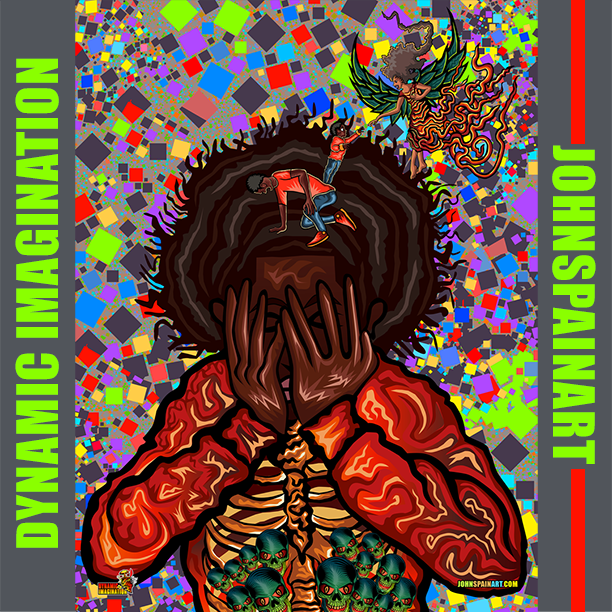 4
.
The Closer I Get To You
– This piece shows a young black man in anguish with skulls inside his body. The skulls represent his internal demons. On his mind: hes kneeling down in pain and a innocent child soul is leaving his body, reaching for the angel hand. The angel was sent down from heaven to save him.
The man is suffering and the child represent his innocent soul. His soul is going back to a higher power to leave the earth to a place of bliss.
I got the idea while listening to Donny Hathaway and Roberta Flack – The Closer I get To You. I was listening to it and decided to create something based upon the title. The song isn't necessarily about spirituality but the vibe combined with the depressed feelings I had at the time inspired me to create this one.
5
.
Life's Manual
– This piece shows 2 black children studying, educating themselves. The thought bubble over their heads shows the stair way to their freedom and the steps they should take to find salvation. The words on the outside are the obstacles that they face being black in america.
This piece was designed to be an instructional manual for young black children. Sort of to serve as a life guide.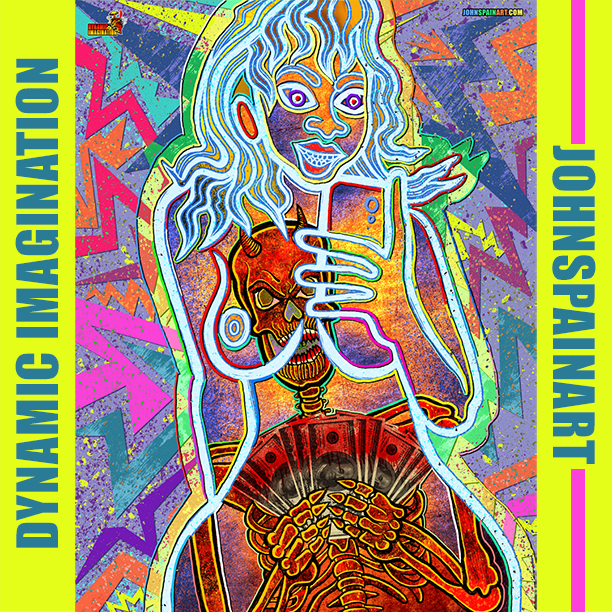 6
.
Monster
(My Generation)
– This piece is about the deceitful nature of some of the women from my generation. The image shows a nude lady posing taking a selfie. Inside her body is revealing her true intentions. Her intentions are to seduce a man with her sexuality for his possessions.
7
.
Purgatory
 – This piece is about mental demons and feeling trapped inside of your own mind. The man is trapped inside in his own mental hell. That's evident with the man holding the bars screaming in pain.
The man has fangs because hes evolving into a beast. The pain is making him transform into a monster. I became inspired to add the fangs from Prodigy song – Hunger Pangs (R.I.P). The demon skulls in his body represent the inner pain that he feel.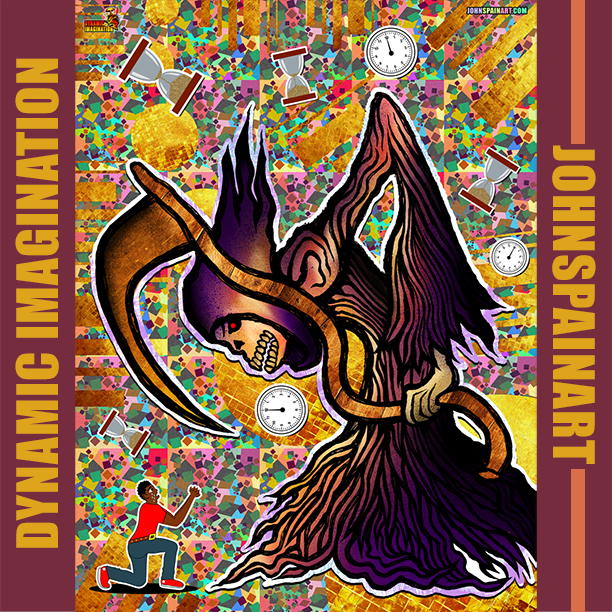 8
.
Race Against Time
(
Live Or Regret
) – This piece is about living your life with no regrets. Its about trying to make every second count because life isn't guaranteed.
The man is praying to the grim reaper. The reaper is ready to take him to the afterlife. The man is pleading for his life but its too late.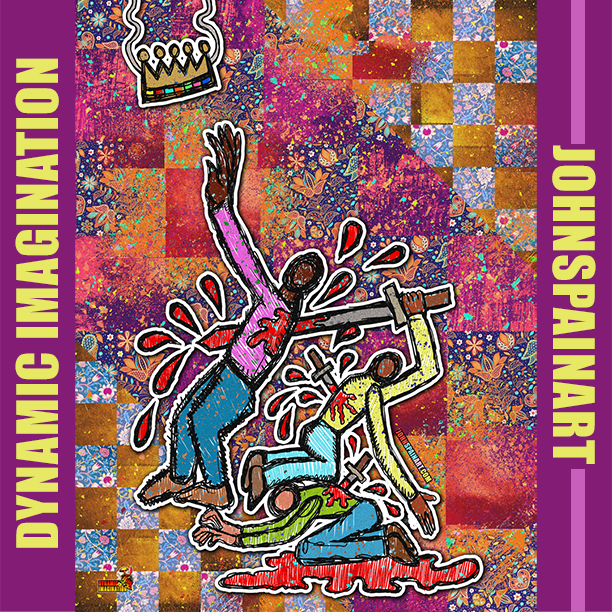 9
.
Race To The Top
– This piece is about capitalism and how people back stab each other to get to the imaginary top. These guys all want the crown. In order to get there, they had to destroy each other and climb over each other and still wasn't able to obtain their goal.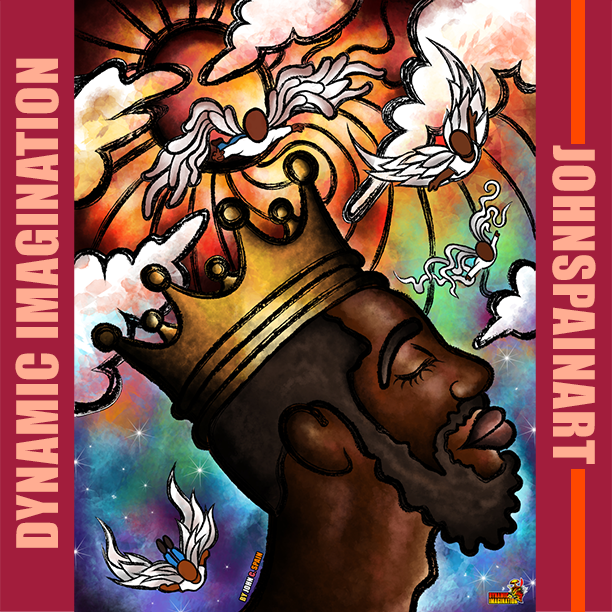 10
.
Royalty
– This image shows a proud black man standing tall with his eyes closed meditating. Hes surrounded by angels as his protection. Hes wearing a crown but his intelligence, self respect and moral integrity is what makes him royalty.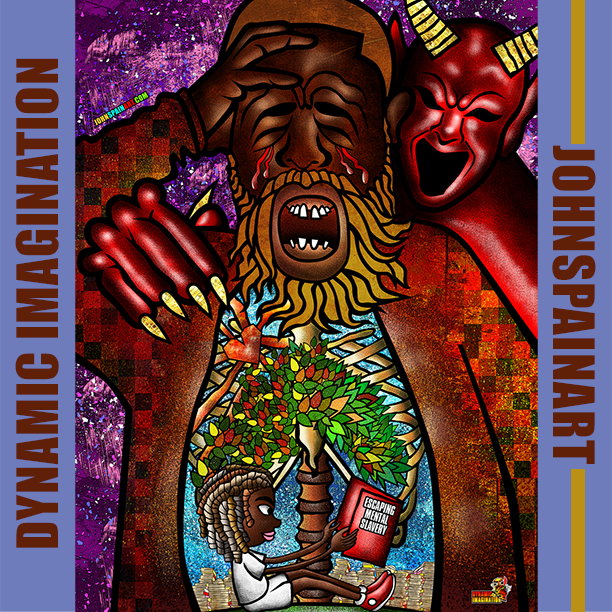 11
.
The Garden Of Peace
– I came up with the title from song "The Garden Of Peace" by Liston Smith which is actually the sample used for Jay-z Dead presidents.
The image shows a young man reading while sitting in a peaceful garden. Hes reading, expanding his mind under a tree. Even though hes feeling hell and pain on the outside. Hes at peace on the inside.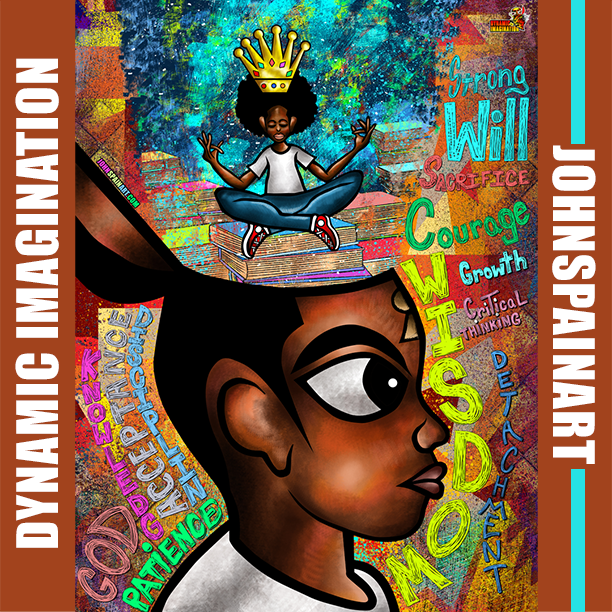 12
.
Young, Black & Intelligent
– This piece is about black empowerment. It shows a young black man meditating with an open mind. The words around his body shows what lead to his position of enlightenment.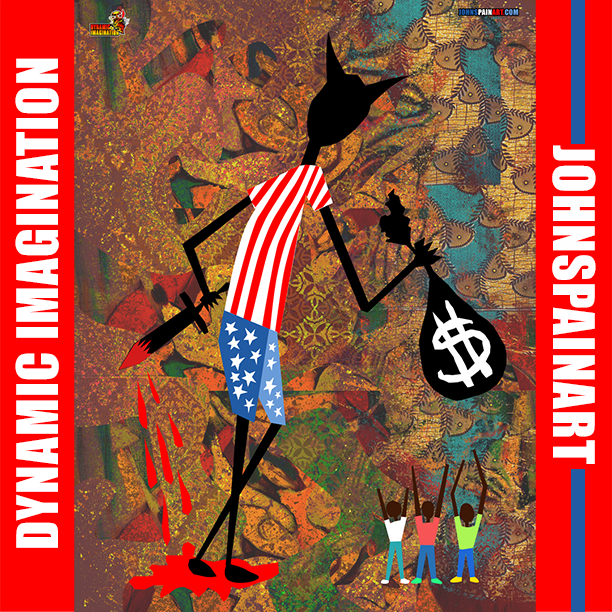 13
.
Money Over Everything
(
M.O.E
)
– This piece is about American Capitalism and how chasing money/material can lead to your own destruction.
Satan is dangling money over the heads of these poor black children. They're reaching for the bag of money but don't notice the bloody dagger that hes holding behind his back.